Dr John A Wilson graduated from the New York State College of Veterinary Medicine at Cornell University in 1972. In 1984, Dr Wilson was made a Diplomate of the American Board of Veterinary Practitioners (ABVP). He has Recertified in 1994, 2004 and 2014.
ABVP advances the quality of veterinary medicine through certification of veterinarians who demonstrate excellence in species-oriented clinical practice.
The Diplomates of ABVP have a common desire and willingness to deliver superior, comprehensive, multi-disciplinary veterinary service to the public. They are veterinarians who have demonstrated expertise in the broad range of clinical subjects relevant to their practice and display the ability to communicate medical observations and data in an organized and appropriate manner.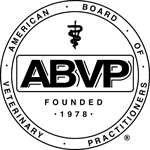 Dr Wilson is a member of the American Veterinary Medical Association and the New York State Veterinary Society.
Dr Wilson is accredited by the United States Department of Agriculture, Animal and Plant Health Inspection Services (APHIS) for Category 2 of the National Veterinary Accreditation Program.